Update 04-01-2020: Department will now use vpn.ucdavis.edu as their VPN Server, with "UC Davis VPN" as the name. Only the BFTV Administrative Staff will continue to use the existing BFTV VPN. All other instructions remain the same.
Instructions and utilities for BFTV staff and faculty to create the VPN network to the BFTV servers. 
The BFTV cluster maintains a VPN to allow staff and faculty to securely access university-related materials from the servers. In order to access the servers remotely you must configure the Pulse Secure VPN client on each of the computers you plan to use to access the server. Below we provide instruction on configuring and using the Pulse Secure VPN client for most major operating systems.
Quick Setup
For a quick setup, go to https://bftv.vpn.ucdavis.edu and log in with your UC Davis LoginID and Kerberos Password/Passphrase. It will download and configure the VPN for you. It is also recommended you change the name to "BFTV VPN" once it's complete. If that does not work, you may select the installer and instructions for your Operating System below.
Installing the VPN
macOS 
Windows OS 
Adding a new VPN
Open your Pulse Secure client and click the [+] icon to add a new connection.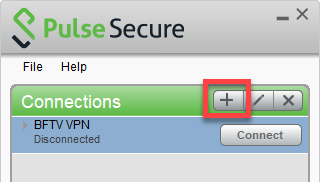 Configuring the VPN
BFTV VPN: BFTV Cluster Administrative Staff
For BFTV Administrative Staff to access access computers and remote drives: Enter BFTV Pulse Secure as the Name, and bftv.vpn.ucdavis.edu as the Server URL, then click Add.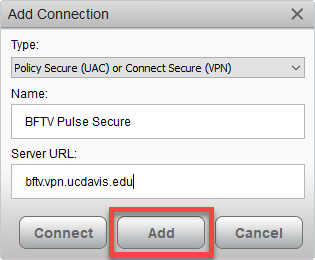 Library VPN: FST/TXC/VEN Users
Please note, there is a new UC Davis VPN that is unable to access off-campus resources such as library periodicals.
You will need to use the
Library VPN
to access those, or access them from a computer on campus that you can remotely connect to. We are working on allowing this to access departmental resources. Additional details:
https://kb.ucdavis.edu/?id=5715
To access off campus resources such as library periodicals and FST/TXC/VEN resources: Enter Library VPN as the Name, and vpn.library.ucdavis.edu as the Server URL, then click Add.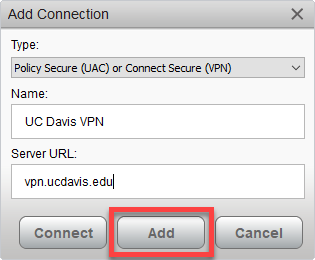 Connecting
After configuring the above setting, you should now be able to click Connect to access the VPNs and all the necessary resources.
When connecting, use your UC Davis Login ID and Kerberos Password/Passphrase. For example, if your UC Davis Login ID is jsmith, you will use that and your Kerberos Password/Passphrase. You will Not use your email address there, just the login ID.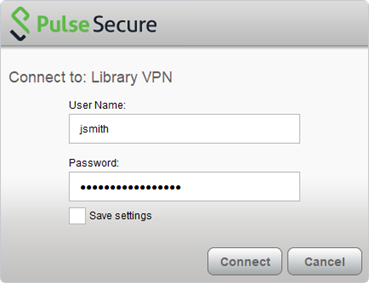 Contact bftvtech@ucdavis.edu if there are any issues.
VPN Requirements
If you do not have anti-virus software on you computer, you will need to install an approved anti-virus software package on your machine before you can use the BFTV Pulse Secure VPN. The new VPN requires a valid anti-virus program to be running on your computer and be up to date. If you have questions about selecting an anti-virus software, please contact bftvtech@ucdavis.edu for assistance.